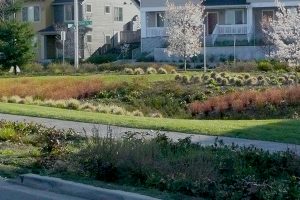 Stormwater Engineering From Kessi Engineering and Consulting
Even when rainfall records aren't being broken, stormwater management is major issue concern for all sites, especially in the Northwest. At Kessi Engineering and Consulting we're experts in stormwater engineering, design and modeling. We have over two decades of experience in designing and engineering practical and cost effective stormwater drainage solutions that meet both the regulations and our clients' needs. Our designs are economically and environmentally friendly, reducing polluted stormwater runoff and lowering your project's long-term impact on the surrounding environment. Our stormwater engineering services and capabilities include:re and call (360) 991-9300 or contact us today.
Stormwater Master Planning and Basin Planning
Innovative and cost effective stormwater design and planning
Implementing the Stormwater Management Manual to meet current regulatory requirements
Natural and structural drainage structure and conveyance system design
Detention pond design, wet pond design, and stormwater pollution control facility design
Complete integrated stormwater drainage system design services
Bio-Retention, Bioswale, Rain Gardens, GreenStreets, Compost-Amended Biofiltration Swale (CABS)
Permeable Pavers, Porous Pavement, Rainwater Harvesting, and Green Roof Design to help meet LEED certification
Flood Plain Studies and Permitting and HEC-RAS Modeling
Western Washington Continuous Simulation Hydrology Model - WWHM
HydroCad and MGSFlood Modeling
Computing Facility Flow Duration Compliance per the 2012 Ecology Manual
Erosion Control Plans and best managment practices (BMP) to stabilize soil erosion and minimize flooding
Grading Plans that implementing sediment, erosion, and pollution prevention control measures
NPDES Construction Stormwater General Permit for Department of Ecology and DEQ
Permits for the clearing, grading, and excavating activities that disturb one or more acres and discharge stormwater to surface waters of the state
SWPPP - Stormwater Pollution Prevention Plans and Permits
Low Impact Development (LID) Stormwater Design
Pond and Infiltration Trench sizing and optimization, Grattix
Simulation and modeling of complex stream channels and floodplains
Wetland Hydroperiod Analyses and Water Quality Treatment Design (Volume and Discharge rate)
Computing and Graphing Streamflow frequency, duration statistics, and hydrographs
Creating storm hydrographs to routing programs such as SWMM Extran
Seasonal Flood Frequency and Duration Statistical Design used for Construction Management
Let Kessi Engineering and Consulting provide solutions to your stormwater problems.
Call (360) 991-9300 or contact us today.